message from
managing trustee
It is with pleasure that I extend to you a warm welcome to St. Pius X International School, Mulund. As the Managing Trustee, I am delighted to be leading this amazing school.
St. Pius X International School, Mulund is a Catholic-run co-ed institution, wherein stress is laid on the Love of God, our Creator, on ethics and discipline and on respecting every individual, irrespective of caste and religion. We are a Cambridge school offering programmes from the Cambridge Assessment International Education (CAIE). We are pleased to announce the launch of the Cambridge Early Years Programme this academic year (2021-2022) for our pre-schoolers, followed by the Cambridge International Primary Programme for grades 1 to 3.
Children are our top priority and we wholeheartedly support and expect every child to excel. We believe in creating a culture within the school where our parents and students know us, like us and, most importantly, trust us. Our teachers know their students well and encourage each of them to reach their full potential and achieve their goals.  We want every student here to have the opportunity to learn about themselves, the world and to shape and develop the role they will play in the future. 
The inspirational leadership team at St. Pius X International School, Mulund aim to achieve our vision for all students. We expect our children to do their best academically with the Cambridge programmes, and we also desire that they have every opportunity to explore their potential through sport, the Arts, Drama, Music, Life Skills and Global Perspectives.
During the course of the year, it is my hope that we will work together to provide the students of St. Pius X International School the best possible opportunities in preparing them to be global citizens ready to master the challenges of the 21st Century. As the Managing Trustee, it is important to me that everyone who steps through our doors – our staff, students, and parents is excited to be here with high expectations! This attitude enables us to meet the challenges of academic excellence in a positive, fun and nurturing environment.
St. Pius X International School is a special place to learn and we welcome you to visit the new school premises and become part of our learning community.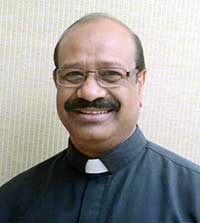 FR. George Athaide
Managing Trustee
St Pius X International School, Mulund